Recycling Options
Residents within cities or villages in Rock Island County should use city-provided curbside recycling, and those living in apartments or other multi-family residences or in the unincorporated areas of Rock Island County who don't have curbside recycling pick-up through a private hauler or community can use the Waste Commission of Scott County drop-off recycling site at 5650 Carey Avenue, Davenport, IA and
other locations in Davenport and Scott County.
For a complete list of accepted materials, visit:
https://www.wastecom.com/Content/Residential/Curbside-Recycling.aspx
.
Midland Davis Corporation, 3301 4th Avenue, Moline, Illinois also will accept drop-off recycling items.  Hours are limited to daytime business hours.  Acceptable items include:
Newspaper, magazines, and junk mail
Aluminum and tin (steel) cans
Cardboard and chipboard (cereal boxes, soda can boxes, etc.)
Plastic bottles, jugs, and containers (numbered 1-7)
Glass Bottles
Recycling Guidelines

PAPER
NEWSPAPERS - Can be loose or tied with string.
Acceptable: Newspapers, ad supplements, brown paper bags.
Unacceptable: Anything with glue, plastic bags.
MAGAZINES/PHONE BOOKS - Deposit in containers at drop off center.
Acceptable: Any book.
Unacceptable: Waxed or plastic coated paper.
CARDBOARD - Corrugated cardboard only. Flatten, stack.
Acceptable: Boxes with staples; brown paper sacks; chipboard; sacks with string; cereal boxes; pop cartons; gable-top cartons (ex: milk cartons).
Unacceptable: Wax or plastic coated paper; feed/seed sacks; anything with food scraps.
MIXED PAPER - Keep paper dry and clean. (Staples accepted)
Acceptable: Computer/typing/writing/photocopy paper; envelopes; light pastel colors; file folders; unwanted residential mail.
Unacceptable: Carbon & other sensitized paper; blueprint paper; film/photographs; tape/glue; metal objects; spiral binders/fasteners.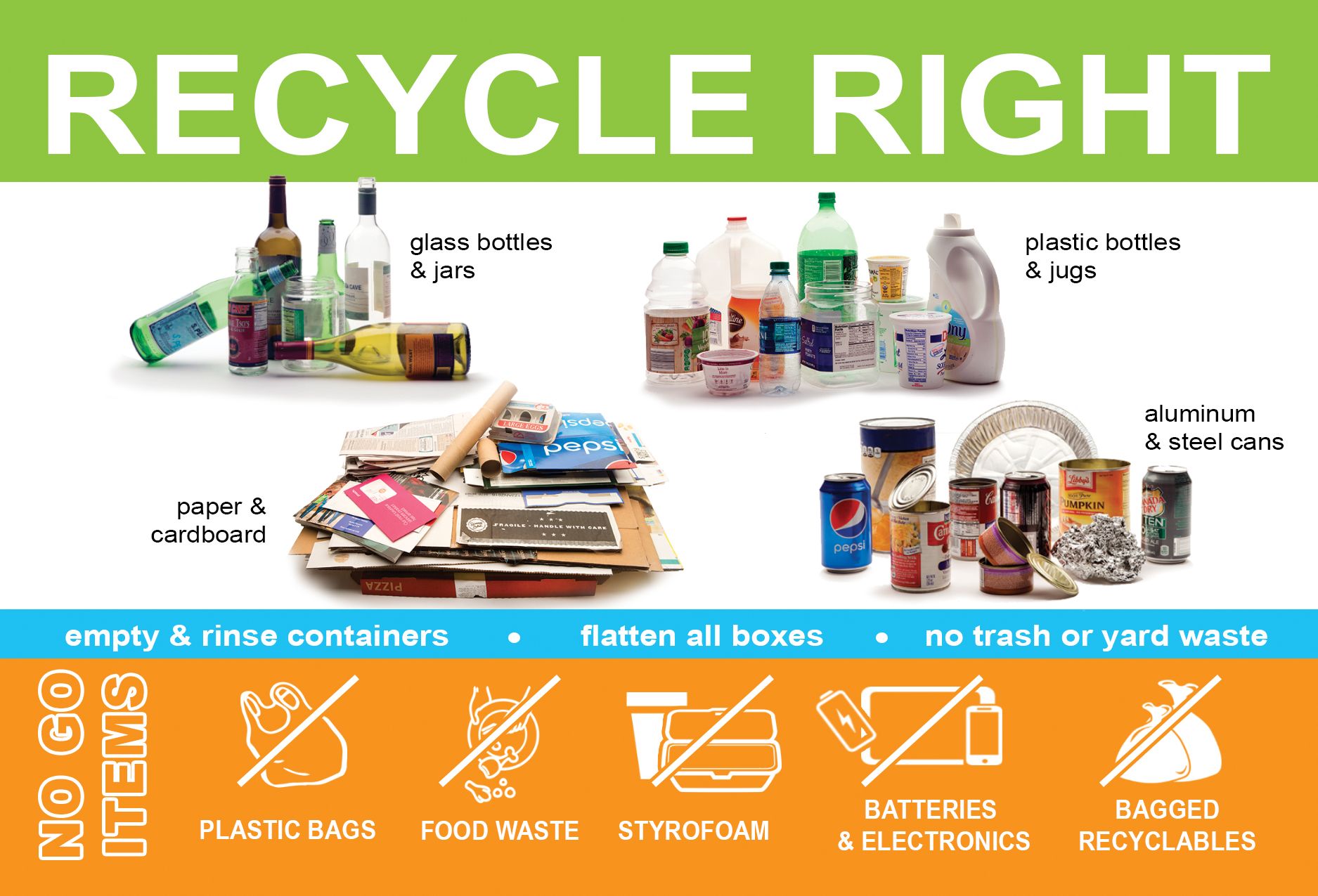 For a complete list of accepted materials, visit: