The use of electronic products has grown substantially over the past two decades, changing the way and the speed in which we communicate and how we get information and entertainment. According to the Consumer Electronics Association (CEA), in 2008 Americans owned approximately 24 electronic products per household.1
What is the environmental impact of disposing electronics into the environment without any precaution?
Electronics are complex devices which are made of a wide variety of material constituents. Some of the constituents, such as lead, nickel, cadmium, and mercury, could pose risks to human health or the environment if mismanaged at their end-of-life. EPA is very concerned about ensuring the proper management of used electronics and has undertaken important work to increase the collection and responsible recycling of used electronics.
As for managing electronics disposed in the US in landfills, we believe that disposal of electronics in properly managed municipal solid waste landfills does not threaten human health and the environment. The results of landfill leachate studies, suggest that currently allowed disposal of electronics — including those containing heavy metals — in modern municipal solid waste landfills are protective of human health and the environment. However, we strongly support keeping used electronics out of landfills, to recover materials and reduce the environmental impacts and energy demands from mining and manufacturing. Electronics are made from valuable resources, such as precious metals, copper, and engineered plastics, all of which require considerable energy to process and manufacture. Recycling electronics recovers valuable materials and as a result, we reduce greenhouse gas emissions, reduce pollution, save energy, and save resources by extracting fewer raw materials from the earth.
For example:
Recycling one million laptops saves the energy equivalent to the electricity used by 3,657 US homes in a year.
One metric ton of circuit boards can contain 40 to 800 times the amount of gold and 30 to 40 times the amount of copper mined from one metric ton of ore in the US.
The State of Illinois has the Illinois Electronic Product Recycling and Reuse Act which has banned the following electronics from landfills effective January 1, 2012:

Televisions
Monitors
Printers
Computers ( laptop, notebook, netbook, tablet, desktop )
Electronic Keyboards
Facsimile Machines
Videocassette Recorders
Portable Digital Music Players
Digital Video Disc Players
Video Game Consoles
Small Scale Servers
Scanners
Electronic Mice
Digital Converter Boxes
Cable Receivers
Satellite Receivers
Digital Video Disc Recorders
What are Rock Island County residents' recycling options?
RICWMA has partnered with the Waste Commission of Scott County for you to dispose of Rock Island County residents' electronics at no charge. The Waste Commission's Electronic De-manufacturing Facility is located at 1048 East 59th Street, Davenport, IA and is open Monday through Friday 7:30am to 4:00pm. Please see the list of accepted items below.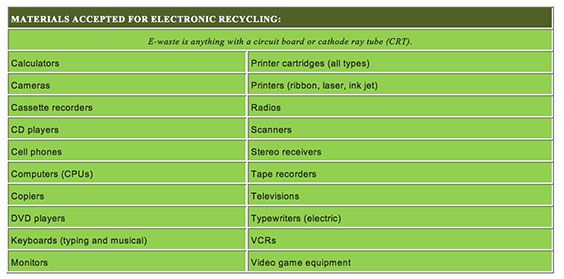 Not able to get to your electronics to the Waste Commission's De-manufacturing Facility?
RICWMA hosts electronic collection events typically twice a year. Once in the spring and once in the fall. Keep your eyes open for more details.
Other options?
Can your electronics be reused? Can it be repaired or refurbished? Check out charity organizations that might be able to use it. Or, visit the IL Environmental Protection Agency for other recycling options throughout the state.